Product Description
The B-G Racing Wheel and Tyre Trolley is manufactured from high quality, 304 grade stainless steel with a superb hand-polished mirror finish.
The Wheel and  Tyre Trolley is available in either 1300mm, 1500mm or 1600mm internal lengths and features an adjustable internal width of 400mm, 475mm and 550mm.
The versatility of the Wheel & Tyre Trolley is matched by its practicality, with two fixed and two fully-rotating locking & braking castor wheels for easy manoeuvrability and stability in pit, paddock and workshop.
The trolley is supplied with an A-frame with an M12 Rod End for connecting to a paddock vehicle (Maximum towing speed not exceed 5mph/8kph).
TECHNICAL SPECIFICATION
Part Number BGR103S
Style Racing
Material Stainless Steel
Finish Hand Polished
Height (H1) 1580mm – 62.20″
Width (W) 725mm – 28.54"
Internal Length (L) 1300mm – 51.18″ / 1500mm – 59.05″ / 1600mm – 62.99″ / 1800mm – 70.86″
Internal Widths 400mm – 15.74″ / 475mm – 18.70″ / 550mm – 21.65″
Internal Height (Between Beams) (H2) 721mm – 28.38″
Weight 51.80kg – 114.20lb / 53.70kg – 118.39lb / 55.40kg – 122.14lb / 58.80kg – 129.63lb
Loading Capacity 300kg (150kg per level) / 660lbs (330lbs per level)
Wheel Diameter 160mm – 6.29"
Wheel Material Aluminium Centre
Tyre Material Rubber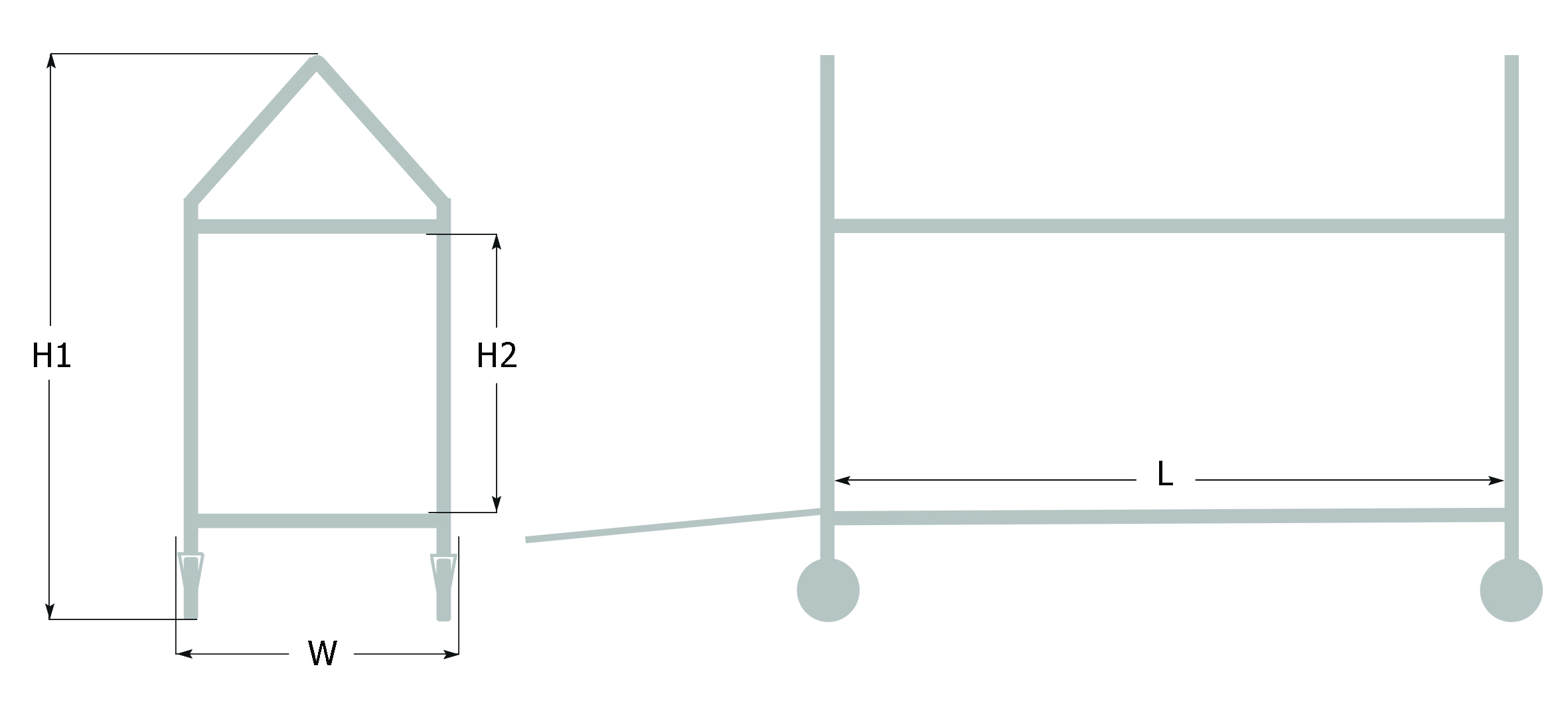 BGR103S
H1 – 1580mm – 62.20″
H2 – 721mm – 28.38″
W – 725mm – 28.54″
L – 1300mm – 51.18″